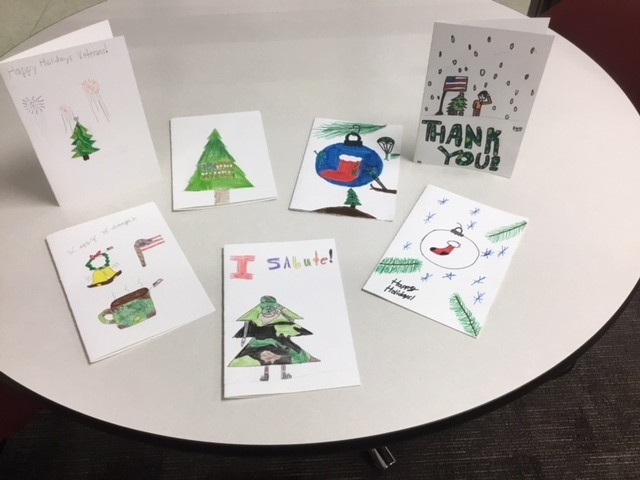 Injured Soldiers Letters and Care Packages 2018
Betty Novotney
Monday, December 10, 2018
Students Send Holiday Greetings to Injured Soldiers
Every year as the gym is used for the holiday concerts at South
Campus, students in physical education classes in the fifth and sixth grade
prepare holiday greetings for the service men and women in the Walter
Reed hospital and hospitals in the Washington, DC, area. They make
holiday cards and write letters expressing the gratitude they have have for
these soldiers' service.
Included in the tidings that the students write, are messages conveying
their hope that the soldiers will heal and return to their families and friends
soon. This extension of compassion and the understanding that a fifth and
sixth grader can make a difference by communicating empathy is an
important Character Counts concept that SGS students practice year
round.
One topic in the fifth and sixth grade health curriculum addresses the
importance of helping others to improve one's self esteem. Many students
mentioned that the "attitude of gratitude" gives them confidence to know
that they can be of service to someone else. We were fortunate to have
Ms. McNichol help us get our cards delivered to Washington, D.C. and
Chicago Military hospitals.
With the theme of Hope throughout the 18/19 school year, students
made sure that the messages in the cards had two parts. First of all,
students included a message of gratitude for the service by the wounded
soldier. Secondly, a message that the injured service person heal and
return to his/her family.
Students used the blue ribbon throughout the process as it represents
hope. The letters were completed in time to bring that hope to hospitalized
soldiers who will not make it home for the holidays.
The students in fifth and sixth grade write letters of gratitude to
military persons, first responders and veterans for the September 11
program. This year students wrote letters and made posters in October to
students in the panhandle region of Florida at JMS Middle School that lost
their school. These letters were messages of hope. Mrs. Kiper laminated
all the projects to be sent. The seventh and eighth grade Lady Raiders
Basketball teams packed boxes and helped K-2 grade students prepare
cards for the boxes.
Also in December, students packed care packages for area soldiers
currently serving. Included in the packages were notes of support from the
fifth and the sixth grade students in physical education class.
The effort and quality of product that these young men and women
produce is heart-warming. Enjoy the photos and messages!


Mrs. Novotney
Fifth and Sixth Grade Students
Lady Raider Basketball