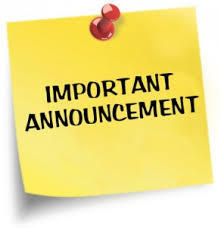 Classes are in session... (3/16-3/23)
SGS Administration
Friday, March 13, 2020
Dear Seneca Grade School Parents,
Next week, Seneca Grade School fully intends to be in session each day. However, we would like to be prepared for potential state mandated closures as result of the continued expansion of their Coronavirus.
As a result the staff is preparing materials for students to utilize for e-learning days. Students
in grades 5-8 will be taking home their one-to-one devices. Staff will send out materials to students using email and/or Google docs. Students in grades PK-4 will use a choice menu format for their assigned work. Each grade level will have a 5 day e- learning plan available at www.sgs170.org. Paper copies will be also be made available at the building for pick up.
We appreciate your patience and support at this time.
Seneca Grade School Administration